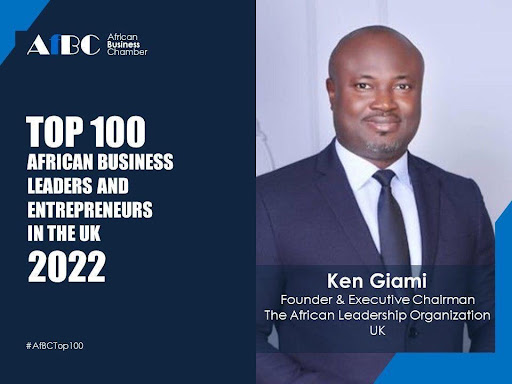 Ken Giami Listed as one of UK's Top 100 African Business Leaders 2022 By Blossom Ukoha
In the words of Calvin Coolidge, "No person was ever honored for what he received. Honour has been the reward for what he gave". In recognition of entrepreneurial excellence and the professional successes and contributions of African businesses to minotity communities in the UK, the founder and Executive Chairman of Africna Leadership Organization, Dr Ken Giami, has been nominated for the TOP 100 most influential, impactful and successful businessman in the United Kingdom (UK).
This announcement was made by the African Business Chamber (AfBC) – a Global UK based organisation representing the interest of African businesses, investors, entrepreneurs and professionals in African recently, themed; "UK TOP 100 African Business Leaders and Entrepreneurs 2022 Nomination".
As an African entrepreneur, media owner and a leading voice for Africa's economic appeal, Dr. Ken Giami is Founder and Chief Executive Officer of African Leadership (UK) Limited – a force to reckon with in the promotion of African excellence, success, and possibilities on a worldwide scale; publisher of the prestigious African Leadership magazine and Africa Energy & Infrastructure
magazine.
This recent recognition joins a long list of global commendations bestowed on Ken Giami and the African Leadership magazine – a good governance journal published by African Leadership Organization, In March 2013, for his contributions in fostering trade ties between the United States and Africa, the US
State of Georgia's Senate recognised Dr. Giami and the African Leadership magazine with a senate resolution of commendation. In 2014, a special Governor's Citation honoring Dr Giami was also presented to him by then US Governor Martin O'Malley of Maryland for advancing US-Africa commercial relations in
2014. Also, Giami was honoured with the State of Georgia Honorary Citizenship
in 2015. In May 2018. the Multicultural Media Correspondents Association recognized Ken Giami as the International Journalist of the Year at the National
Press Club in Washington, DC, alongside Cathy Hughes of Urban One Inc. and US Senator Dean Heller of Nevada. And post COVI-19 pandemic, the 67,000 member-strong National Bar Association, the United States national Association of black lawyers, honored Ken Giami with the Jesse L. Jackson Sr International Human Rights Awards in July 2022, in recognition of his contributions to the
promotion of civil rights for minorities globally.
Giami has also received attention for bridging trade gaps between Africa and the rest of the globe in the Washington Post, Atlanta Business Chronicle, and other international newspapers.
As a hard working entrepreneur with purpose and focus, Dr. Giami is also the chairman of the multi-sector, Africa-focused ALG Strategy Group, which has operations all across the continent but is based in Abuja. The group has interests in publishing and marketing communications, energy, real estate, hospitality, investment advisory, and development consulting. His businesses has collaborated
with over 30 African heads of state and government over the past 15 years, as well as over 250 plus leading African business executives, public workers, and community leaders. Additionally, it has supported firms led by Africans at important gatherings, leading to more than $5 billion in deals and strategic alliances.
The African Business Council (AfBC) is the voice of the African diaspora and the global business community, fostering trade, investment, and economic links with African nations. In order to empower the organization, its members, and the business community, AfBC organizes events, runs a number of campaigns, and conducts a number of activities that showcase products and solutions, improve
marketing, and draw attention to the requirements of African businesses.