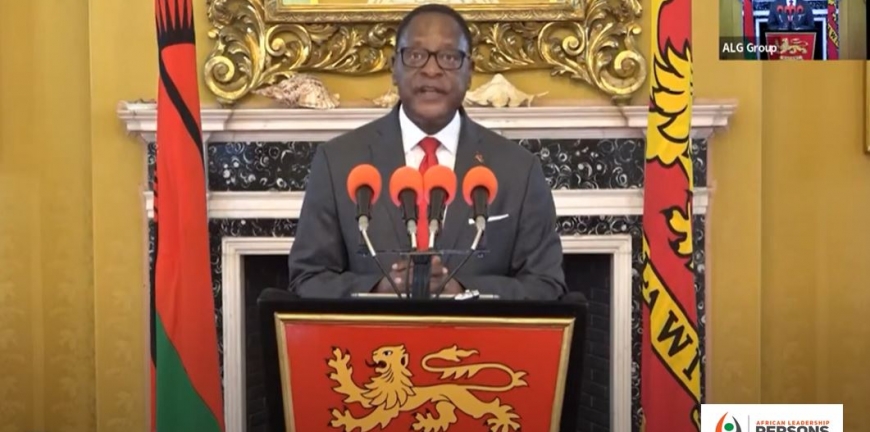 Malawian President Named African of the year 2021 by African Leadership Magazine
The President of Malawi, Lazarus Chakwera, has been awarded the Prestigious African of the Year 2021 Award by African Leadership Magazine during the recently concluded African Leadership Persons of the Year presentation ceremony. The magazine is the continent's leading publication on leadership, business, and investment.
The African Leadership Magazine Persons of the Year Award is a distinguished yearly award program that honours African trailblazers who drive change, makes an impact, and contribute to Africa's growth and development via exemplary leadership and practices in various sectors in the year under review.
President Chakwera, in his acknowledgement address, expressed delight in receiving the award. He stated that "it was an honour to receive the award from the previous holder Dr Tedros Ghebreyesus, Director-General of the World Health Organisation, adding that it serves as a reminder of the unique time we live in the kind of leadership needed.
He further stated that no nation on earth is insulated from the effects of the actions of others while expressing the need for leaders with a global perspective to create global solutions because the challenges we are currently facing are global.
President Chakwera also expressed delight with the award process, which surrenders the selection to a global public vote.
President Chakwera dedicated his award to the Malawian people whose fortitude, courage, vision, resilience, and honesty he said responsible for his ascendancy to the presidency of Malawi and the Chairmanship of Southern African Development Community (SADC).
He noted that with the award, he is even more determined to continue pressing on towards attaining true sovereignty for Malawi and the nations of Africa.
President Chakwera emerged the African of the Year alongside the winners in various categories, including President Uhuru Kenyatta of Kenya as the African Political Leader of the Year 2021; President Mokgweetsi Masisi of Botswana as the African Peace & Security Leader of the Year 2021; Egyptian Football Star, Mo Salah, as ALM Young person of the Year 2021 among other distinguished winners in different categories.